While most singles avoid Valentine's Day like the plague, the committed ones, the lovers, married couples, engaged sweethearts, summer lovers and even weekend flings are getting giddy as they look forward to the endless possibilities that await them on the special day of hearts.
But the uncommitted ones need not fret because Valentine's Day is also marked as "Singles Awareness (or Appreciation) Day" in other words, it's a SAD Valentine's Day, a facetious holiday actually which is celebrated for singles who are not involved in romantic relationships. It is also a welcome breather or alternative for people who by circumstance or choice have remained single.
Has Cupid finally found his match?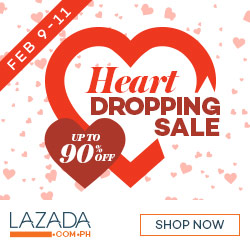 Visit LAZADA HERE for the Best Deals
After all, being alone does not necessarily mean being lonely.
Regardless of one's romantic status, Valentine's Day is dedicated to St. Valentine, the Roman priest whose belief in love and commitment made him encourage young couples to marry even if it was prohibited by Emperor Claudius.
As a consequence, the priest was eventually imprisoned, tortured and executed. St. Valentine's are indeed the best symbols for pure & unadulterated love.